Sononym 1.4 Release Notes
What's new in Sononym 1.4?
Here are the highlights:
Additional Update Information
Search Across Libraries
It is now possible to combine multiple libraries on-the-fly and to search across them as if they were one.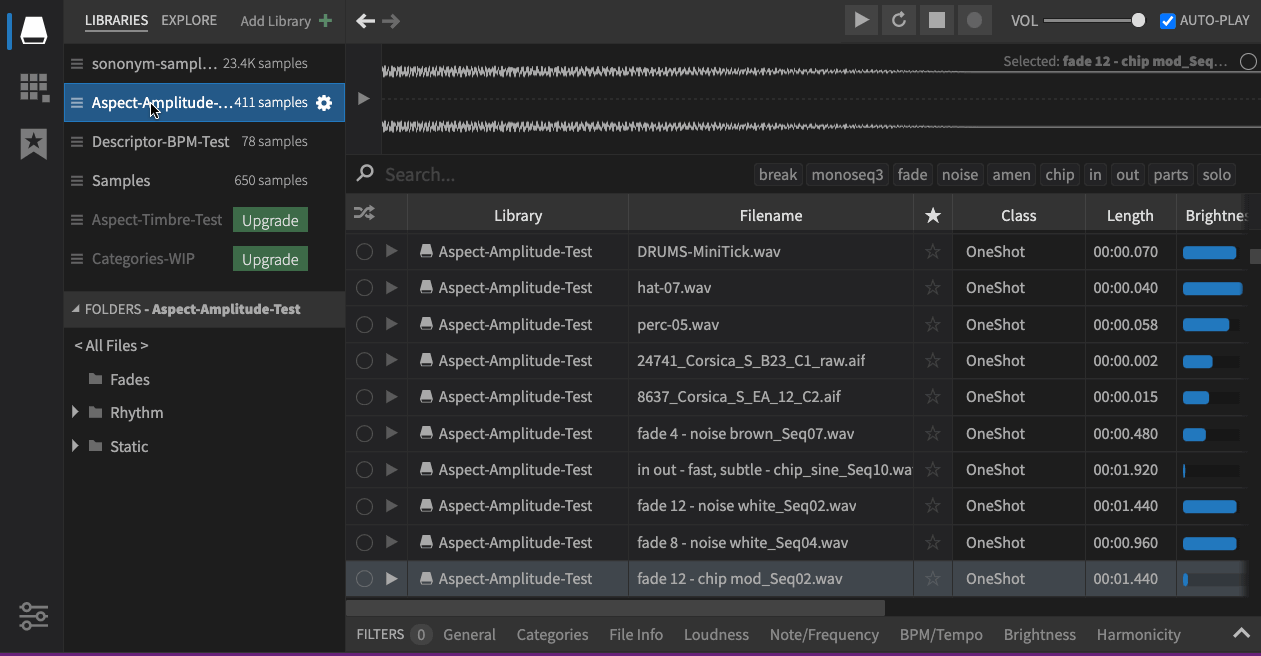 All you need to know is to how to use the modifier keys: Holding Command/Ctrl while selecting a library will cause it to be added to, or removed from the selection. Holding the Shift modifier will 'expand' the selection to include the library you picked.
In either case, you might notice a brief preparation time, after which you browse the combined content of your selected libraries, just as if it was a regular library.
Note that there is a limit to how many libraries that can be combined on-the-fly. If you have chosen more libraries than the software supports, any libraries shown with a "striped" background will not included in the results.
Find Duplicate Samples
Sononym now offers to find duplicate samples. But it doesn't just detect identical sounds: it also looks for sounds that are nearly identical. So if you happen to own a sample pack with samples which have been encoded into different file formats, you can use Duplicate Detection to find these samples, and take some kind of action on them.
You can launch a duplicate search on anything from a single file, a folder, an entire library or even multiple libraries. It's as simple as right-clicking the sound you want to search for, or the location you want to search through.
Since Duplicate Detection is quite a deep feature; it comes with ample documentation.
Filter By Multiple Categories
When filtering sounds by category, it's now possible to choose more than a single category at a time. As always, the application shows you the most relevant sounds at the top of the search results.
If you prefer the "old" approach, you can select a single category at a time simply by using right-click.
In addition to this, the categories are now color-coded* and will always appear in the same order. They used to be sorted by number of occurrences, but as this could lead to the categories visually "shuffling around" when switching between libraries, we decided that it's better to use a fixed layout with all categories shown at all times.
* Regarding the colors: red indicates percussive sounds, purple melodic sounds and blue sound-effects.
Edit BPM & Note Properties
If the software didn't predict the correct tempo or pitch for a given sound, it is now possible to correct this directly from the search results - simply click the little "edit" icon to pop out a menu which allows you to select the correct value:
If you need to correct multiple items at the same time, this can be done by right-clicking the selected files and choosing the relevant submenu (e.g. "Assign BPM").
Hide From Search Results
Sometimes you come across audio files that won't be needed, but also shouldn't be deleted. You can now mark such files as hidden.
It works as you'd expect it to: right-click, or use the provided shortcut to hide the selected files in the search results. Once hidden, they won't appear in search results until you choose to make them visible by changing the Hidden Files filter:
Search: Exclude Term
We have refined the search behavior to allow any term to be excluded from a text search. It's simple to use: simply prefix any word with a minus "-" in order to exclude it.
For example, to search for sounds containing the term "hoo" without matching "hooray", enter the following:
Of course, you can still search for a word that starts with a minus too - just make sure that you surround the term with quotes:
OK, but what if the search involves synonyms? For example, the term "wind" would include the terms "air", "blow" and several other terms, as they are part of the built-in thesaurus.
We have this covered too. First of all, you can prefix any synonym with a minus, and the search will exclude all the associated synonyms too:
This search will match entries NOT containing "wind", "air", "blow", etc.
And to search for all synonyms except one, add the term you wish to exclude, prefixed with a minus:
Finally, if the term you wish to exclude is itself a synonym, you can force a literal search by surrounding it with quotes:

This search will match all synonyms associated with "wind" except "air".
Additional Search Preferences
Preview sounds while stepping through results
If enabled, files will be previewed while stepping through search results - that is, while pressing and holding down the arrow up/down keys. Requires that Auto-Play is enabled in the main toolbar. The option is disabled by default.
Reset when launching a similarity-search
If enabled, all filters (including the selected folder) are reset when launching a new Similarity Search. This helps to find the broadest possible set of results, but if you prefer to stay within the current folder you can disable this option.
Additional Columns in Search-Results
Added: Library Column, displays the name of Library that the sample belongs to (hover to reveal path).
Added: Pitch Class Column (e.g. "C" or "C#"), similar to Note but without the octave and detune/cents information.
New keyboard shortcuts
Find Duplicates: Alt+D
Set as Hidden: Shift+D
Unhide Selected: Shift+U
Other notable fixes and improvements
Fixed: ASIO buffer size sometimes changing on launch.
Fixed: stability improvements, particularly on macOS.
Fixed: under some circumstances, a missing library could not be located.
Fixed: focus not retained after renaming items in project.
Fixed: assets deleted in explore mode not pulled when browsing root path.
Fixed: project folder tree shortcuts for expanding/collapsing nodes.
Fixed: quoted (literal) search terms not always preserved on location change.
Fixed: unable to drag files with broken links around in projects.
Fixed: changing more than 5000 favorites at once would throw an error.
Changed: Alt modifier to scroll-lock is replaced with "always lock to selected".
Added: Offline documentation in PDF format (available from help menu).
Added: Improvements to how missing/moved-around libraries are handled.
Added: [Projects] drag a file onto an empty panel to create a new project
Several usability tweaks and improvements under the hood.
Version 1.4.1
Fixed: Apostrophe in path could lead to library not mounting
Fixed: App crashed when certain paths didn't exist in OS
Fixed: Random select/play broken while browsing multiple libraries
Version 1.4.2
What's next?
Well, Native Apple Silicon support.
We have been asked by quite a few people if Sononym supports the newer line of hardware from Apple. And so far, the answer has been "yes, but" - as we rely on the 'Rosetta' translation layer, the application works fine but there is a noticeable performance penalty compared to a natively compiled app.
That said, we expect Apple silicon support to arrive soon, in a minor/patch update.
–
Updated 2022-10-31: Our sale is over. Thanks to everyone who purchased a license!
–
Please enjoy the release!
The Sononym Crew