Search Input
Provides access to the current path, and allows entering custom search terms.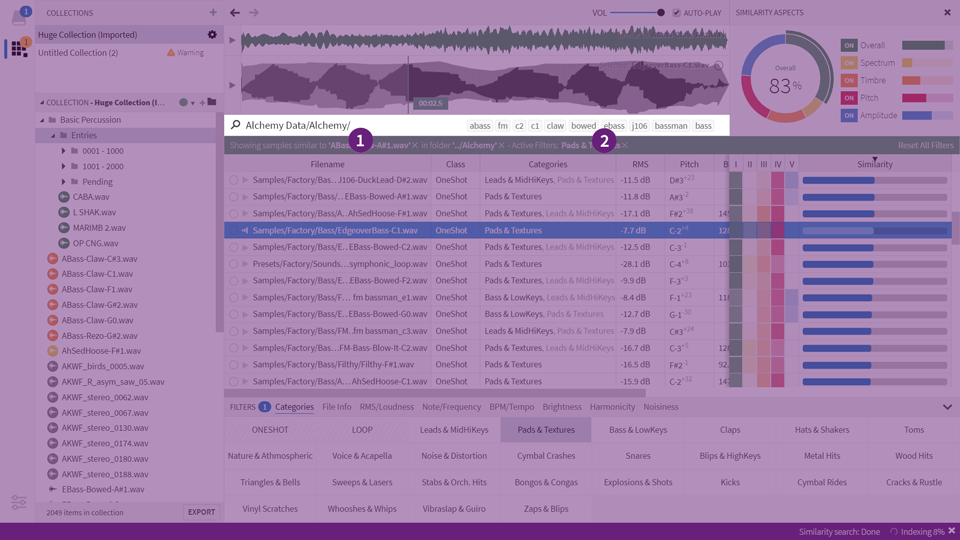 Anatomy
The path is relative to the root of the current location, and ends with a forward slash.
The location determines the root path, no matter if you are browsing a library or a folder.
The search term is any text following the path. Once you enter anything, only the results whose name is a (partial or full) match of the term you've entered will be included.
Keywords are suggested search terms, extracted from the results.
Suggestions
The software will suggest any matching paths or keywords as slightly dimmed text next to the text you're typing.
You can apply those suggestions by hitting either TAB, or by pressing the Right Arrow key. You can also cycle between the available suggestions by pressing the Up/Down arrow keys.
Keywords
Another feature of the search input are the keywords. They are available as 'floating' buttons, in the right-hand side of the text input. The keywords are terms that have been statistically extracted from the pool of names available in the current set of search results. As such, they are very dynamic and will (most likely) change as you switch between folders.
Just like with paths, keywords can be auto-suggested as you are typing, and the same keyboards shortcuts apply (see above)