Search Results
Search results are shown in a large table with each column representing a property or descriptor.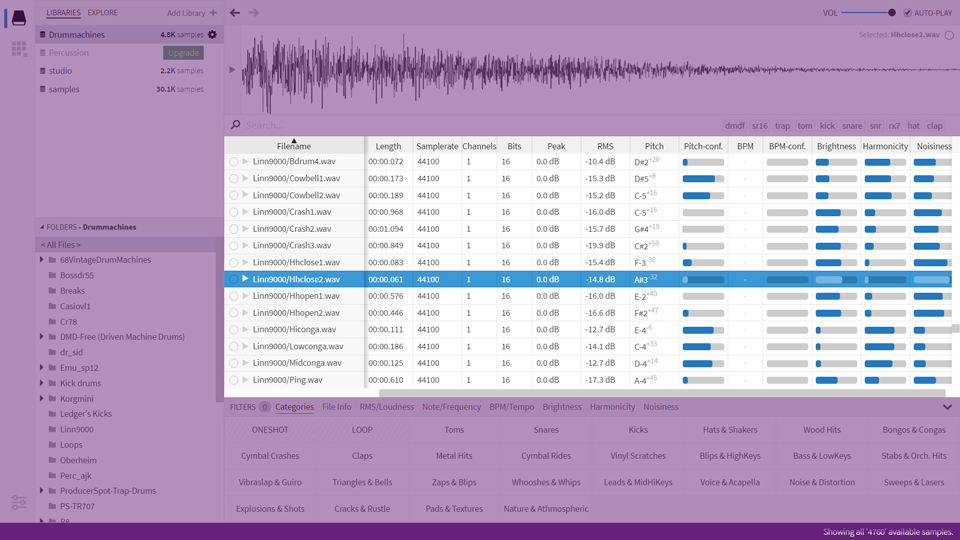 The results you are seing arrives from either a library, or the explore tab. It's easy to tell that you are browsing a library, as all columns (all audio descriptors) are available to those.
Selecting and navigating
The table supports both single and multi-select. This allows you to select one or more items, e.g. to drag them into a collection. To learn the shortcuts for (multi-)select and navigating the table, please read about the available keyboard shortcuts.
Whenever you select a sample, it is shown in the waveform-panel. Also, if you have enabled auto-play, the selected file will automatically be previewed.
Scrolling
Vertical - Use the mouse wheel, keyboard shortcuts, or touch swipe to scroll through results.
Horizontal - Use the mouse, keyboard (arrow keys) or touch swipe to step sideways through the available columns. Note that the first column (Filename) is fixed when scrolling horizontally.
Sorting results
Each column can be sorted by clicking the column header.
It works like you would expect, with one exception: in similarity search mode, only the similarity columns are sortable.
Column Options
Right-clicking any column-header will bring up a menu where you can decide which columns to show:
Row Options
Each row in the table contains two buttons: search and preview.
Right-click any item to bring up a menu with the available options. This includes the ability to add the item to a(ny) collection, reveal the location in Explorer/Finder, and more.
Note also that you can adjust the height of table rows in the Display Configuration
See also